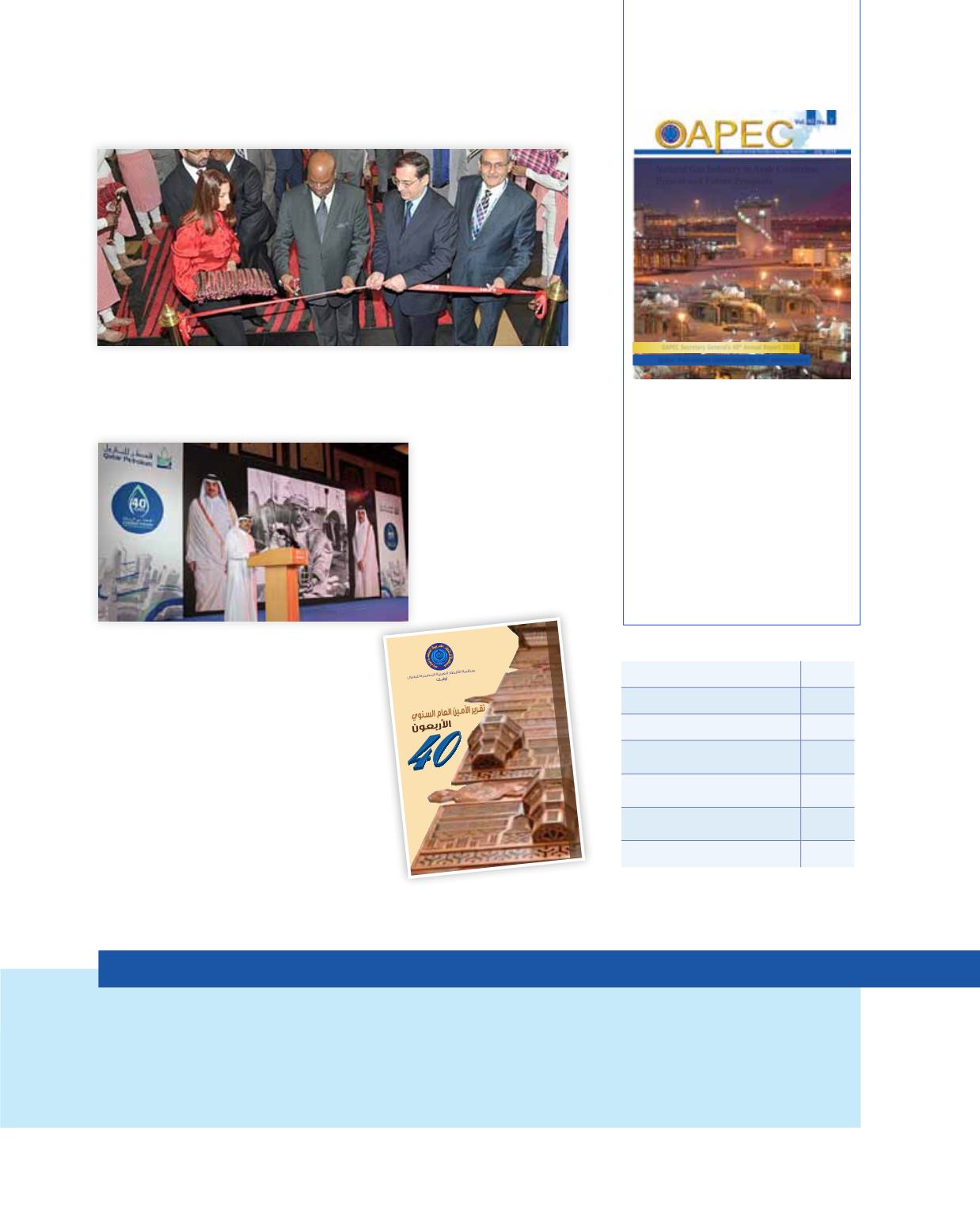 OAPEC Monthly Bulletin is published by the General Secretariat of OAPEC- Information and Library Department.
All rights reserved. No reproduction is permitted without prior written consent of OAPEC.
Natural Gas Industry in Arab Countries:
Present and Future Prospects
OAPECSecretaryGeneral's40
th
AnnualReport2013
Qatar Petroleum celebrated its 40
th
anniversary
Annual Subscription (11 issues)
Arab Countries
Other Countries
10
15
40
60
Subscription orders should be sent to : P.O. Box 20501 Safat - Kuwait 13066 - State of Kuwait
Tel :
24959724
Fax :
24959755
E-mail
Web-site
Cover of the issue
In this issue
Natural gas industry has witnessed significant
developments in the past five decades both
on Arab and international levels. It assumed
a major position in the global energy mix.
Global demand for gas rose supported by the
continuous development in gas processing
and converting/liquidating techniques and
technologies. Natural gas uses expanded
greatly in heavy consuming sectors
including electrical power generating, oil
and downstream industries, industrial sector
(fertilizers, cement, iron, steel, and aluminum)
in addition to domestic uses. Natural gas is
getting more interest due to the fact that it
is an environment friendly fuel with lesser
Qatar Petroleum
celebrated its 40
th
anniversary
OAPEC Secretary General's 40
th
Annual
Report 2013
2013
1434 - 1433
¿ƒ©HQC'G…ƒæ°ùdGΩÉ©dGÚeC'Gôjô≤J
2 0 1 3
The African Petroleum Institute:
A new step towards broader African energy cooperation